The difference between a regular kitchen and a dream kitchen is really in the details. Are you looking for kitchen design ideas? We can provide you with inspiration: take a look at our list of 25 different ideas to turn your kitchen into a dream space.
A touch of color
1. A two-tone kitchen
Two-tone kitchens are very trendy if you want to create a stunning look everyone will love. Black and white are a striking option, but you can also opt for a look like white and wood, or black and wood, or an even more creative option. Discover our different kitchen design color options! Among other things, you will see that natural hues are among the 2023 trends for the kitchen.
2. Art for a stunning look
No matter the kitchen design, an original art piece or reproduction can fit perfectly into your kitchen or add a touch of color. You could opt for a peaceful landscape, a reproduction of a classic masterpiece or contemporary art to brighten up your space. You could also integrate a few smaller pieces into your décor.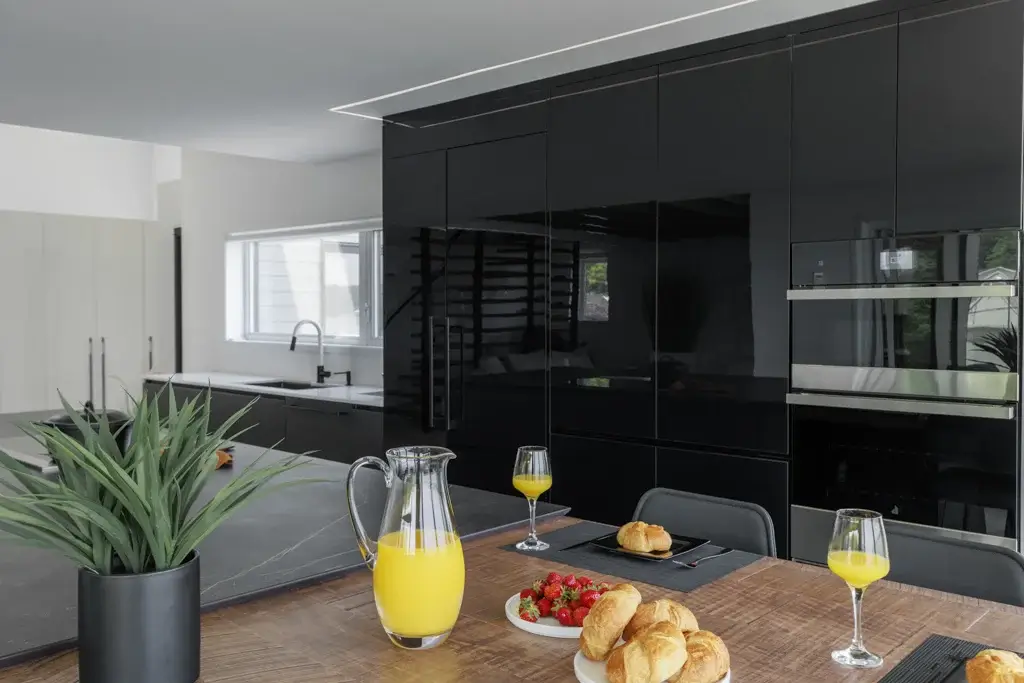 3. Introducing aromatic herbs and green plants
Although aromatic herbs are the perfect addition to a delicious dish, they can also be an elegant touch for your kitchen! The green color from herbs and plants can definitely brighten up a room, especially if you have opted for a minimalist design or more neutral colors. This is an excellent decoration idea for your kitchen that can create a stunning contrast and a natural look!
4. Adding decorative wallpaper as an accent wall or backsplash
Creative backsplash design ideas add a lot of personality to a space. With decorative wallpaper, you can enjoy a new backsplash or accent wall very easily, on top of being an inexpensive option. You do not need to remove your tiles, you can simply apply your wallpaper directly to the tiles and voilà!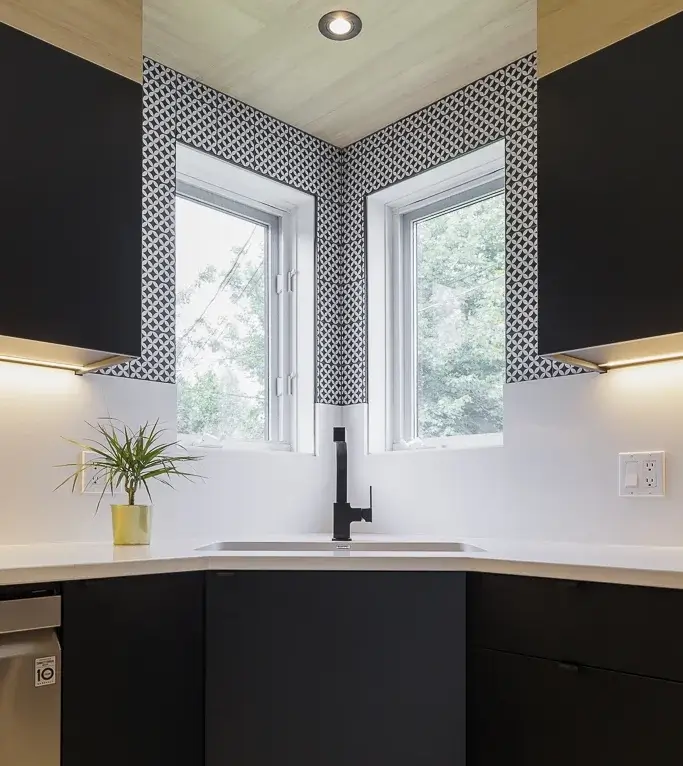 Kitchen furniture and hardware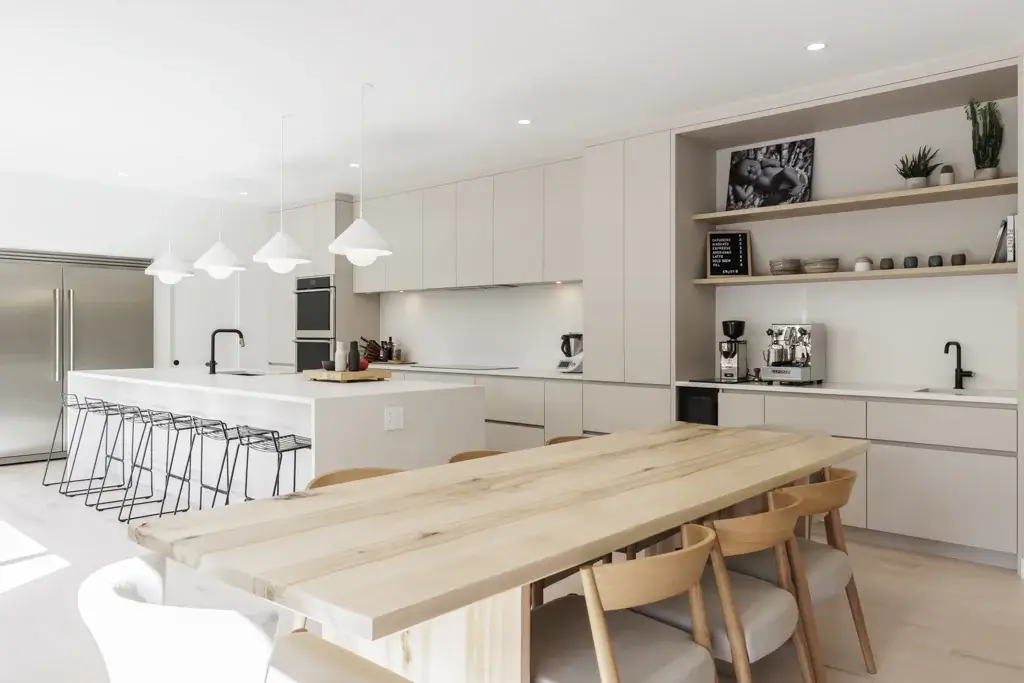 5. Choose chairs and tables that blend into the kitchen design
The old table and chairs that were handed down to you by your parents, or the furniture from your old apartment don't necessarily fit into your current interior design, and can actually work against it. Don't overlook the importance of good furniture and choose a model that blends into your home décor, in terms of color, material and design.
6. 6. Incorporate a unique and elegant sink faucet as a focal point
A faucet is an element that is often overlooked… but you could also choose to use it to your advantage in order to tie it into your trendy kitchen design. Opt for an elegant shape, but you might also want to think of color. A black, white or brass colored faucet is sure to stand out.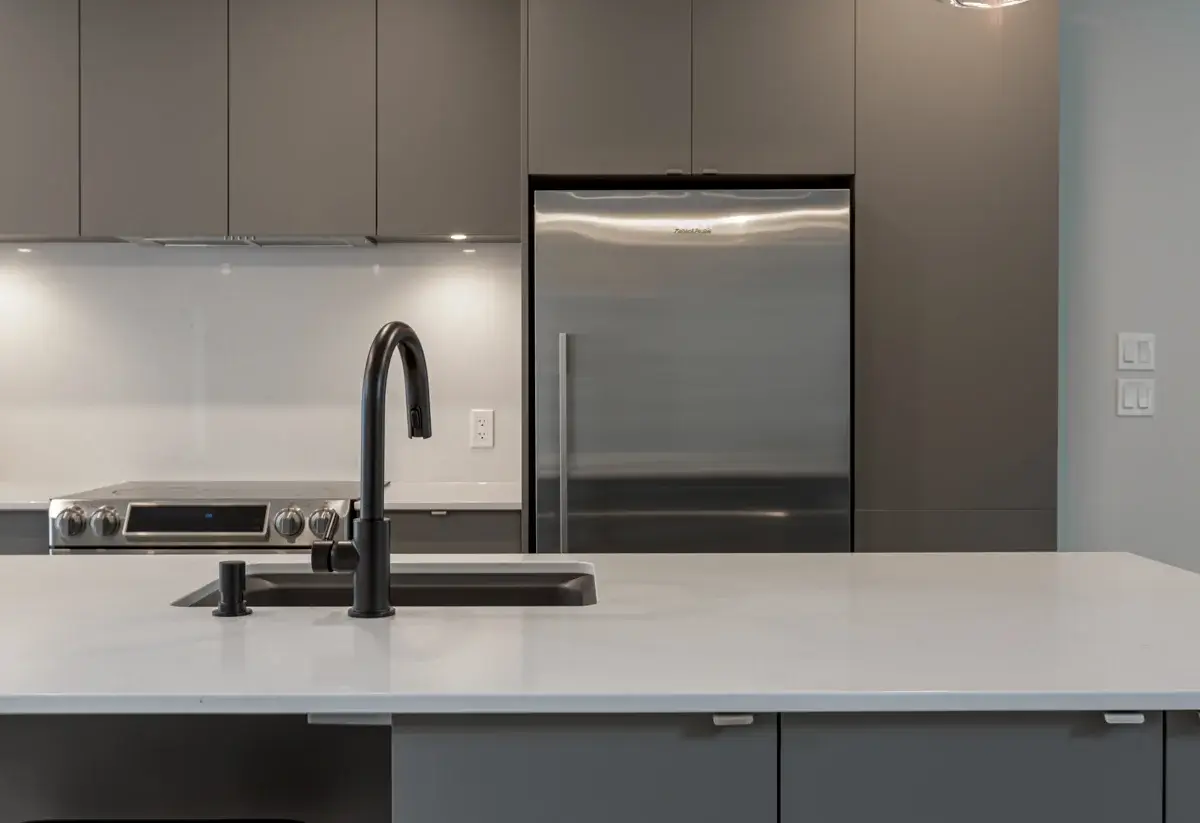 Cabinet doors and countertop finishes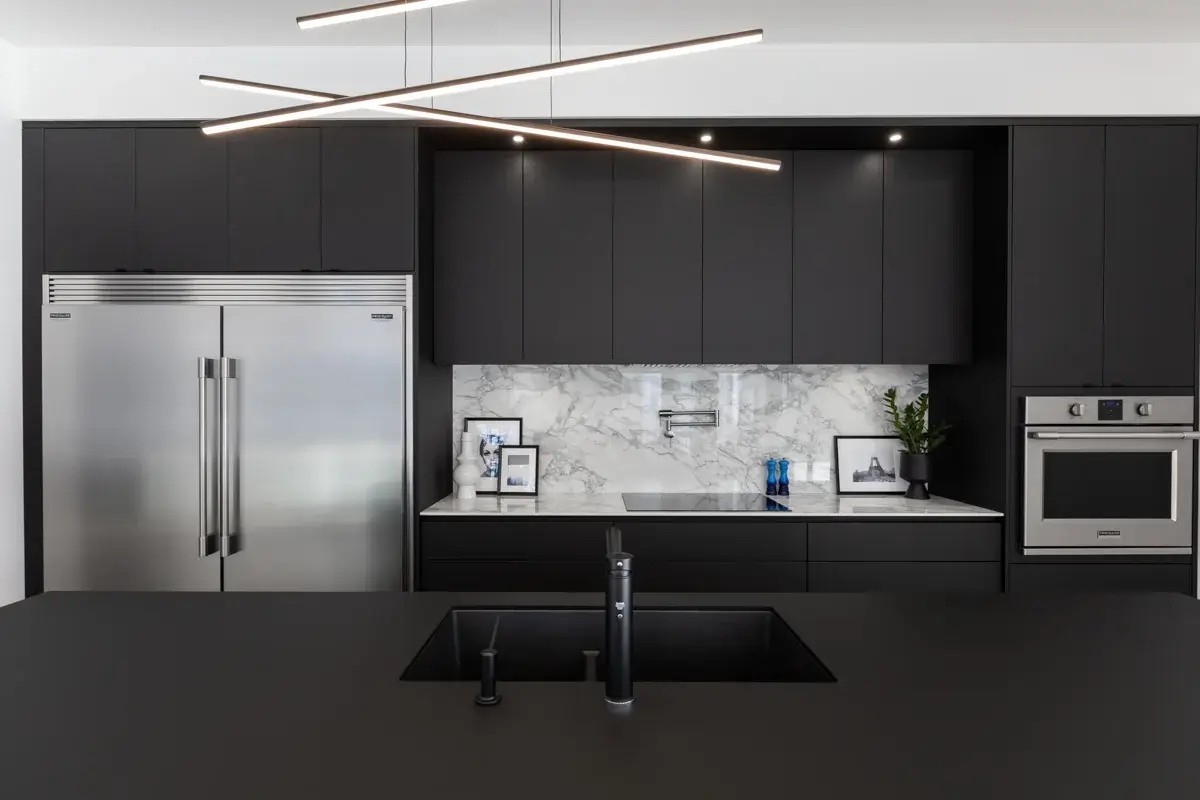 7. Opt for a monochrome look for your cabinets, countertop and appliances
If you want to create a streamlined and harmonious look, a monochrome palette is perfect. In order to succeed, you will have to think of the color for the cabinets, countertop and kitchen appliances. Will you go for a wood monochrome style, pure and matte white, or a noble and elegant greige color palette? Our customizable kitchen cabinets will open up a whole world of possibilities.
8. 8. Integrate the pantry door into your decor, for a more modern and minimalist look
The minimalist trend is extremely popular. For a successful design, forget heavy ornamental furniture and opt for cabinets that blend into your design seamlessly. You should opt for solid colors and uniform materials, and also keep decorations to a minimum. Frameless doors from the INTEGRA series will allow you to accomplish this type of design successfully. It is also possible to cover the door with the same type of veneer or finish as your kitchen cabinets.
9. Opt for matte cabinets
Matte finishes are easily incorporated into a variety of designs, no matter if you prefer a minimalist, contemporary or rustic style. Their understated look provides your décor with a natural charm. With DÖRR Industries, you will find several kitchen cabinet styles in a matt, natural or untreated finish, for a style you will love.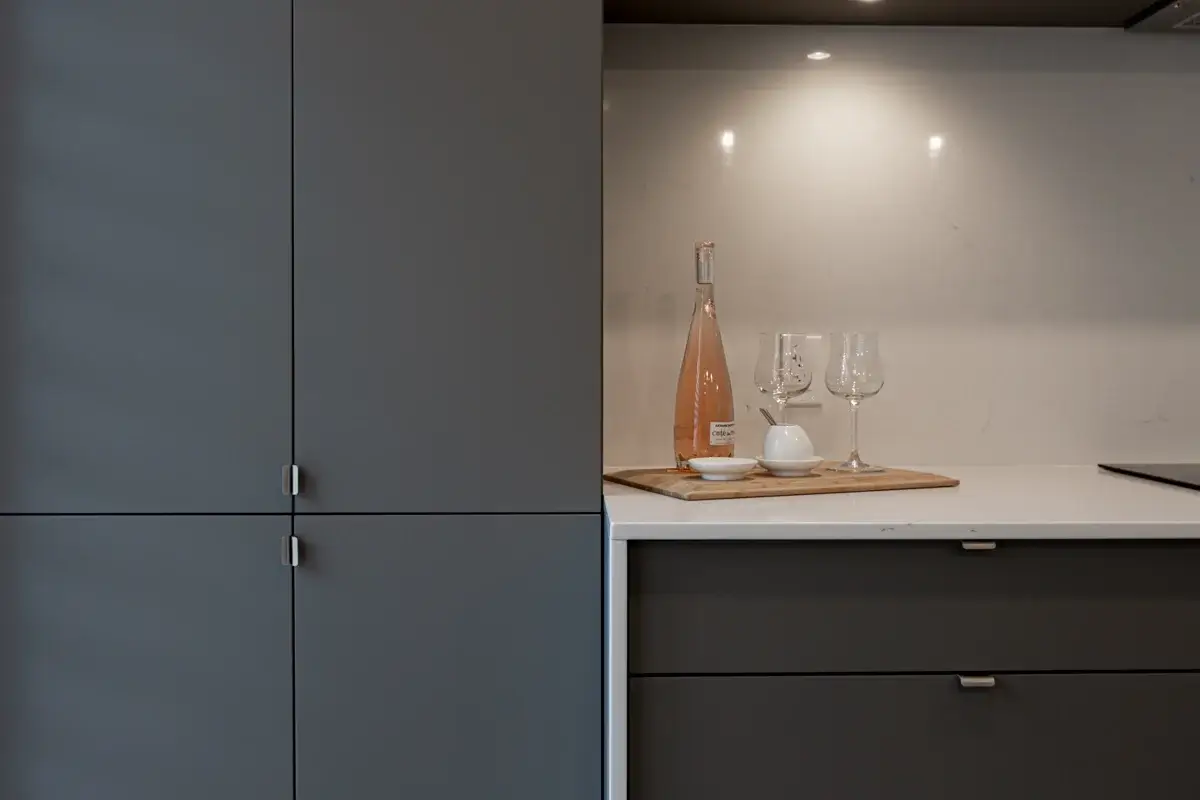 10. Add a warm touch with the PROFIL collection
Other than color, playing with textures is another excellent way to create a stunning kitchen! MDF slats create a very warm style that blends with any color. For a timeless and warm kitchen design, take a look at our PROFIL collection, with superior quality materials that are available in two colors. They can be applied directly to the wall or the back part of your island, if you want to add texture to your kitchen design.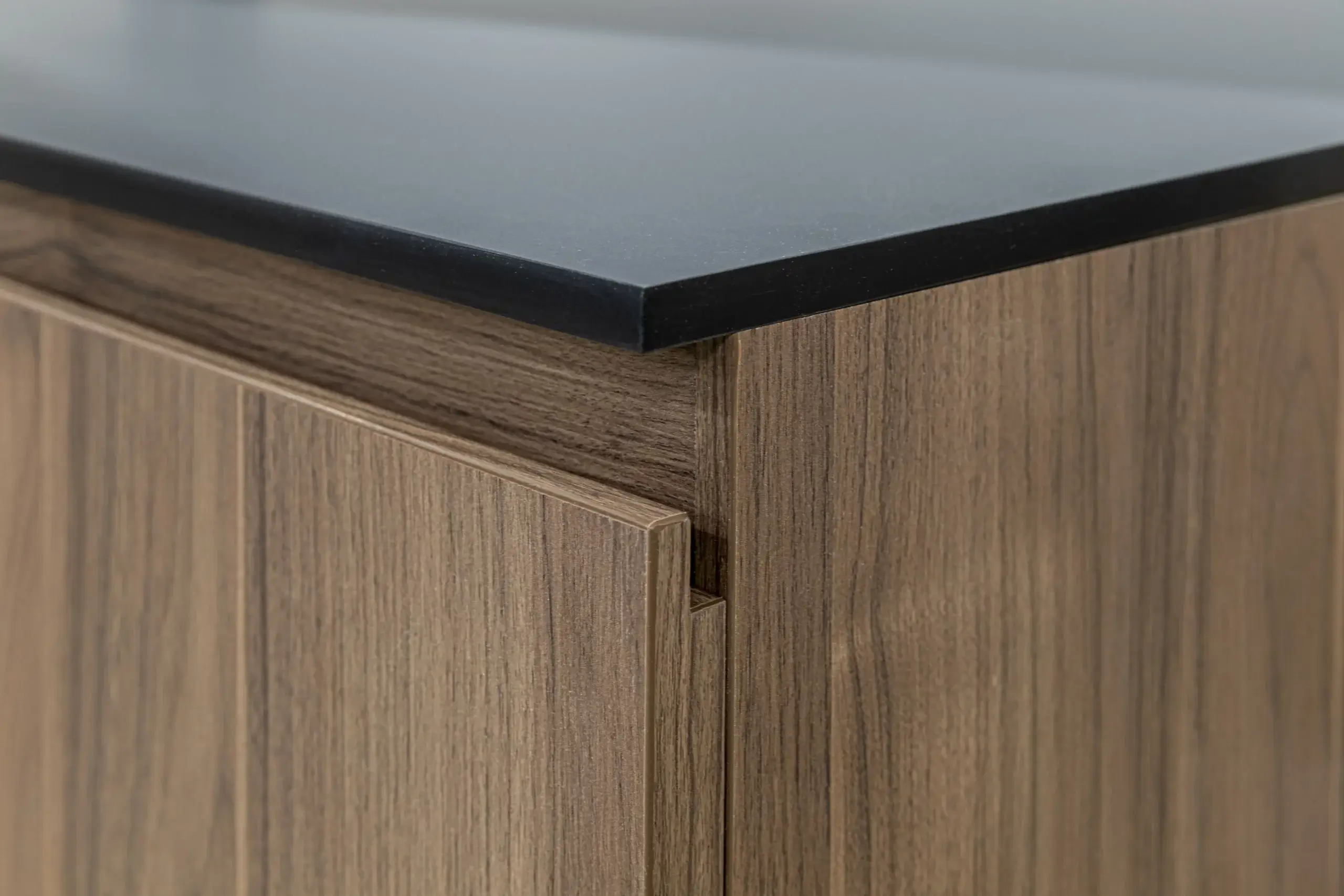 11. Try integrated or invisible door handles
For a minimalist style, anything unnecessary is eliminated. Removing cabinet hardware is very trendy for a modern style. Our cabinet doors with integrated and invisible handles are easy to use while also creating a design that blends seamlessly into your home décor. Find out more about minimalist home design or take a look at our different kitchen cabinet models.
Shelves and storage solutionse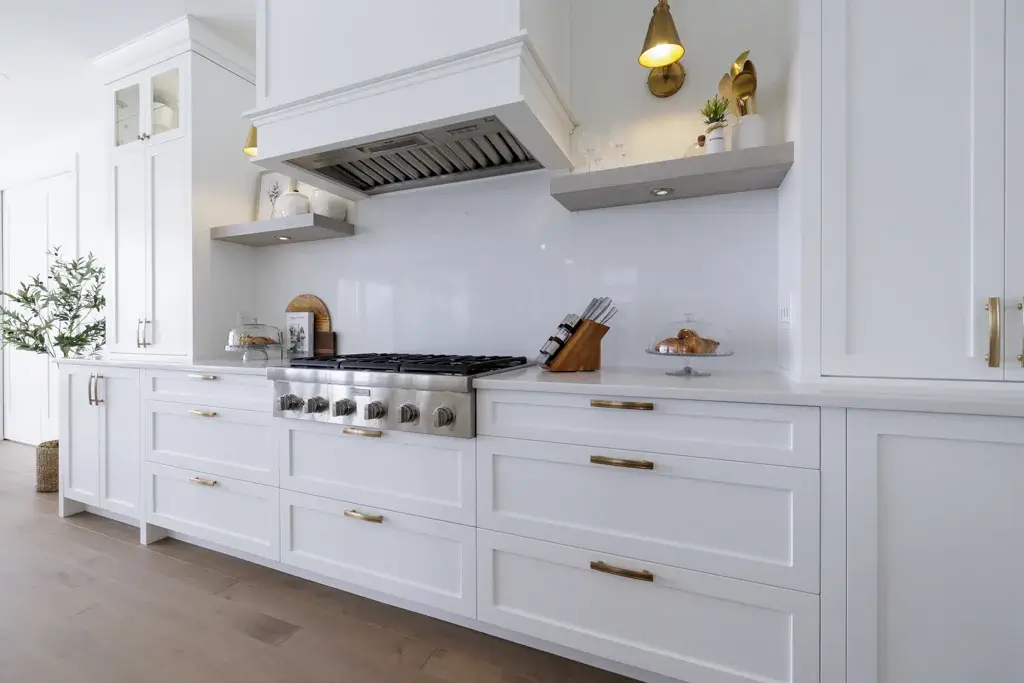 12. Installing shelves
Are you looking for functional storage solutions that are also elegant? Installing shelves in strategic areas can allow you to showcase your most stunning decorative objects or beautiful kitchenware. If your serving dishes are great to look at, they can be used as decorative elements to create a more personalized and unique kitchen.
13. Opt for a cabinet section with glass doors
Just like shelves, glass doors can add a touch of originality to your kitchen and also allow you to showcase your favorite items. They will also allow you to play with different textures or bring in more light. Choose the perfect section, which can be either vertical, or integrated into your kitchen island, for example.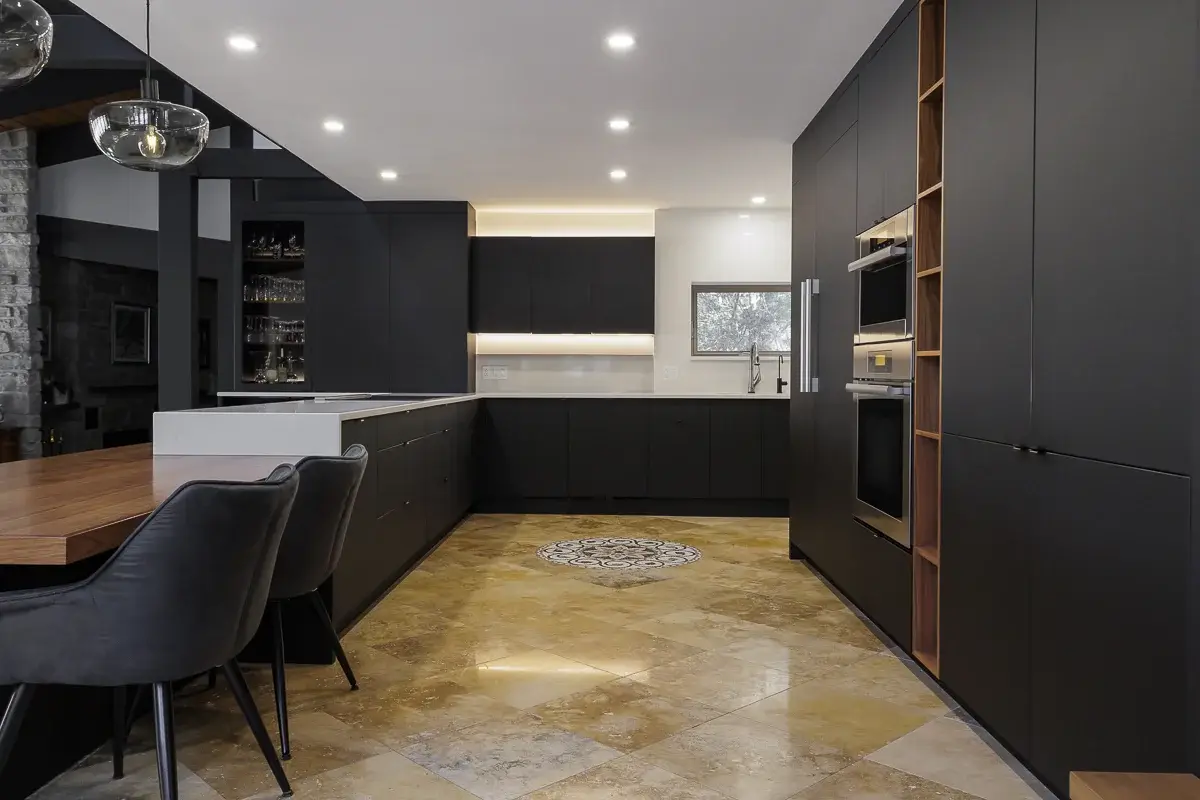 14. Integrate a cellar into the cabinet design
Are you wondering how to create a more luxurious and high-end style? A stunning and well-positioned cellar is always a hit with guests. It can be integrated into the cabinet design and positioned so that it can be a focal point in your kitchen, where you can showcase your favorite bottles. A touch of luxury that is sure not to go unnoticed!
15. Showcase a cooking book collection on open shelves or in a bookcase
Cooking books are often a feast for the eyes! Thinks of showcasing your cooking books and inspire your guests. You can place a few books on open shelves or opt for a bookcase. Displaying a few colorful cooking books in the kitchen can add a touch of charm to your space.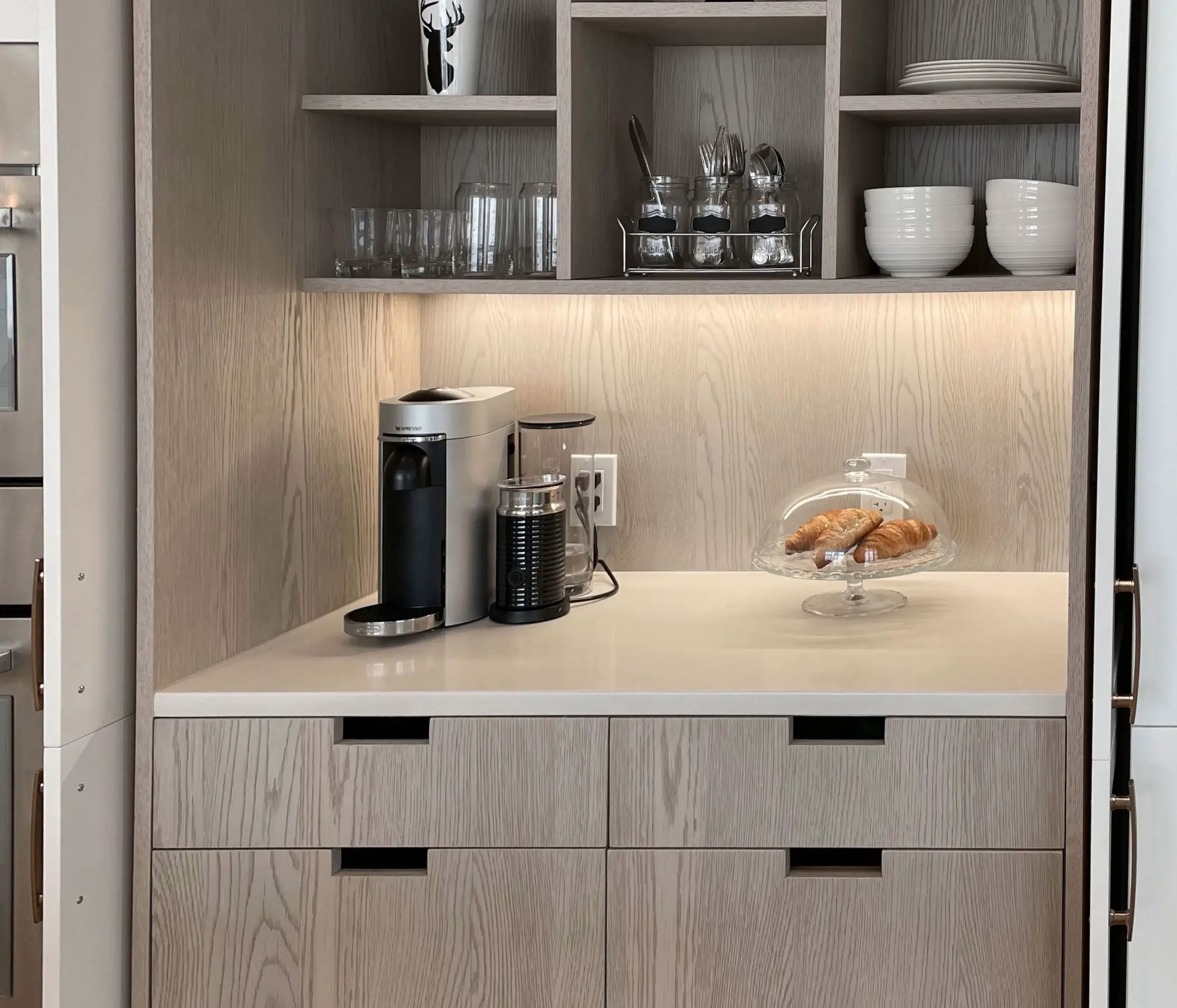 16. Create a comfortable coffee corner or breakfast nook
If you are looking for inspiration for your kitchen design, you should think of integrating a breakfast nook. Among the different decoration ideas for a coffee area, you can place your smaller appliances on display along with your coffee cup collection, to which you can also integrate decorative accessories.
Floor covering
17. Adding a decorative rug for a touch of warmth and texture to your kitchen floor
No matter if it is to hide a cold ceramic floor or to brighten up your decor, rugs are part of the trendy accessories for your kitchen. They add warmth in every sense of the word: it brightens up the space while adding a touch of comfort for your feet, something you will love on a cold winter morning.
18. 18. Installing decorative floor tiles or floor covering with a motif, for an interesting visual effect
If you want to add a touch of whimsy to your kitchen, why not change the flooring? Different patterns will allow you to create a visual effect that is sure to brighten up your space. No matter if it is to add a modern or retro touch, different types of flooring or tiles will allow you to upgrade your kitchen's style.
Lights
19. Integrating lighting under the cabinets for a warm and cozy atmosphere
If you want to create a bright or warm space without the use of imposing light fixtures, integrating lights under your kitchen cabinets is a great way to do it without adding to the clutter. They will also allow you to create a cozier atmosphere once you turn off the rest of the lights during the evening. Don't forget that this type of lighting is also very useful to brighten up your workspace!
20. Add light curtains to your windows
Drapes or curtains are a classic kitchen decoration idea that is also timeless. For an added touch of elegance while also maintaining a good amount of light, it is a great idea to opt for a light color or even white.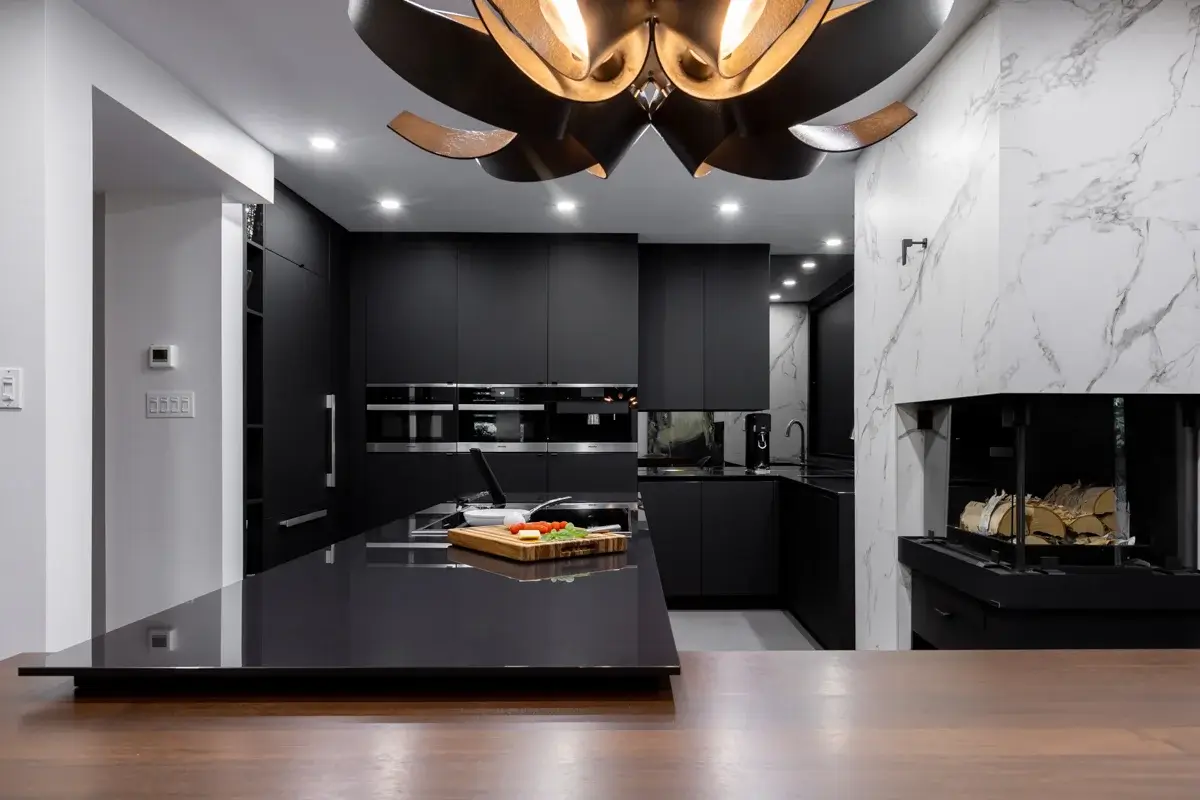 21. Incorporate a stunning light fixture above your dining room table
No matter if you are looking for a discreet and minimalist light fixture, or one that is contemporary or boho-chic, modern light fixtures for the kitchen are abundant on the market! Pick the right one and create a stunning style for your kitchen. An original light fixture above your table or countertop is a great way to create a stunning design. Opt for a unique style and create a remarkable atmosphere.
22. Add a decorative mirror to create an illusion of space and reflect light
Mirrors are not only used for you to see your reflection; they are also often used to brighten up a space and make it look bigger. When used strategically, a mirror will reflect light and create an illusion of space. The perfect decorative element for those who want to brighten up any space!
Functional and elegant kitchen acessoires
23. Adding useful accessories to your kitchen design concept
Other than what is visible from the exterior of the cabinets, several accessories can allow you to create practical storage spaces for your daily routine:
Corner cabinets and mechanisms;
Spice rack;
Storage spaces for cutting boards and cooking sheets;
Etc.
A great kitchen design will also manage to hide visually unattractive objects like the garbage can, which can be integrated into your cabinets.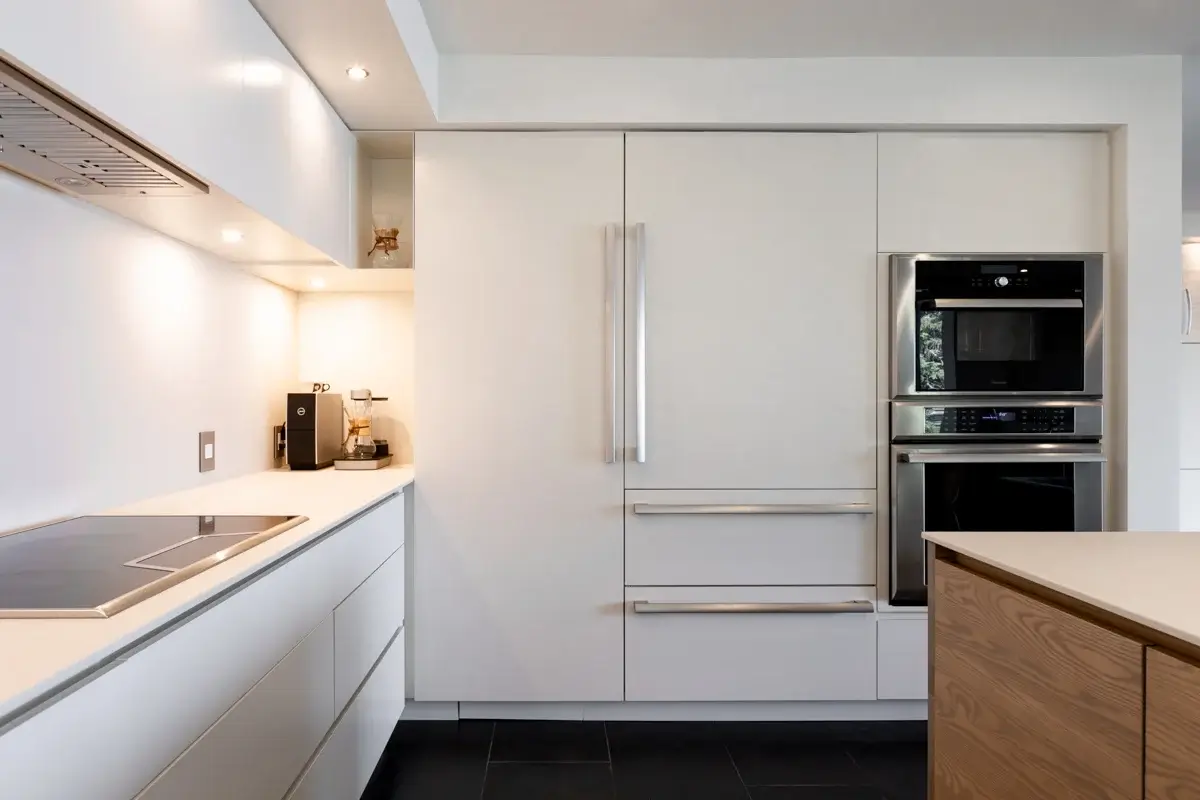 24. Covering your appliances
For a maximum of elegance, you can think of covering your appliances with a cabinet assorted to the rest of your kitchen. By doing so, they blend seamlessly into the rest of the kitchen design.
25. Adding a butcher block
Both in terms of esthetics and practicality, a butcher block will bring a touch of warmth to any kitchen.
As you can see, there are several ways to customize your kitchen. Add a dash of color, patterns or accessories and do not compromise on the quality of your furniture and –mostly- your cabinets.
With DÖRR Industries, you will find custom made cabinet doors that blend seamlessly into your kitchen. Take a look at our Union and Fusion cabinets, for an added touch of luxury to your kitchen design!