Minimalism in the home is a style that does not age! This timeless trend allows you to create an interior design that is both modern and soothing. What exactly is minimalism and how can you apply it to your home decor?
DÖRR Industries answers your questions and gives you tips and tricks.
How does minimalism translate into design?
On top of being an artistic trend and even a lifestyle, minimalism is also expressed through design. For several years now, with the influence of Scandinavian and Japanese trends, it has been increasingly popular in homes and businesses everywhere.
Simplicity is key: the minimalist trend invites you to rethink your interior design will less elements, on top of opting for a monochrome palette and natural materials.
A monochrome palette
White is often a predominant color in minimalist design. The ultimate minimalist color, white also allows you to create a more luminous decor. A monochrome space could integrate white, black and gray tones, for example.
You can also opt for warm colors too, with creamy whites or beiges, for example, and wood accents. You can also find a touch of color, with a general preference for natural tones like green or brown. Regardless of your color palette, sobriety takes center stage and bright colors tend to be avoided.
Natural materials
If you wish to invite minimalism into your home, natural materials are a must. Wood and stones are some of the materials that will add a ton of charm to your interior design, as are linen or cotton accessories.
Glass also has a special place in minimalist designs due to its luminous aspect, and so do metallic accents here and there.
Easy changes that will help you achieve a minimalist interior
Would you like to adopt a minimalist design in your home, but are unsure of where to start? Some changes do not require any renovations. It all begins with uncluttering your space.
Uncluttering each room
A cluttered room is at the complete opposite of a minimalist design; it is actually closer to being maximalist! Disorder or the accumulation of ornamental objects is to be avoided. Only keep what matters most. Opt for one or two cushions and one or two decorative objects on the table. The rest of your belongings can be carefully stored in subtle storage spaces or hidden from view.
Organizing storage spaces
For a minimalist decor, the best thing to do is to opt for storage spaces that have doors. Organized spaces will help you unclutter each room of your house.
However, several storage spaces are actually visible and might be the first thing you notice. For furniture like bookshelves, make sure that everything is properly stored and organize all of the elements by color or shape. This kind of space can be turned into a true ally in your minimalist design plan!
Organizing your household accessories: Usefulness is key!
Do you really need it? That is the first question you should ask yourself when you are sorting through your accessories and furniture and deciding what to keep or toss. A minimalist design is also a practical design. If you don't need it, give it up and gain space!
This is as true when it comes to trinkets and ornaments as it is for storage compartments; there should be as little as possible. In your bedroom, sort through your clothing and give away what you no longer wear!
How to decorate a room with minimalism in mind?
A minimalist bedroom
Minimalism is an ideal way to ensure that your bedroom is used for exactly what it was intended to: rest! By uncluttering it as much as you can, your bedroom will automatically become more soothing.
Begin by removing all unnecessary furniture along with all useless decorative objects. If you are ready for new furniture, opt for refined and small pieces, made from light colored wood.
Storage is often what clutters the bedroom most. Opt for storage under your bed and your wardrobe, so that you can get rid of large dressers and chests. You can also place storage boxes in your drawers or on the shelves, which will allow you to store even more items into a small amount of space.
As for paint, opt for earth or neutral tones, which are soothing and calm. If you would like a touch of color in your minimalist bedroom, choose a light blue or pink.
For an even more uncluttered and streamlined space, don't forget the door! A frameless or flush wall door is an invisible modern door that eliminates the need for a frame and is in perfect accordance with a minimalist design.
A minimalist living room
In a minimalist living room, all large furniture items and heavy drapes are removed. Replace them with more refined or geometric pieces of furniture. Window dressings should be light and airy, making your living room more luminous.
Another tip to achieve a minimalist interior design is to opt for horizontal storage. This will avoid the accumulation of objects vertically, which is what most storage solutions offer.
A light and minimalist paint color is also the preferred option here too.
A minimalist bathroom
In the bathroom it is important to avoid leaving hairbrushes, hair products and toothbrushes in plain sight. Go for bathroom furniture with doors so that you can store everything neatly and away from sight. If needed, you can use a storage box.
Rolling towels like they do at the spa can also help you create a relaxing atmosphere in your minimalist design. As for materials, choose wood for a spa inspired design or marble for an elegant touch.
Glass surfaces are also preferred in a minimalist bathroom. As for the door, eliminate the frame, especially if your bathroom is rather small. A door with a frame can quickly take away from the feeling of simplicity and calm.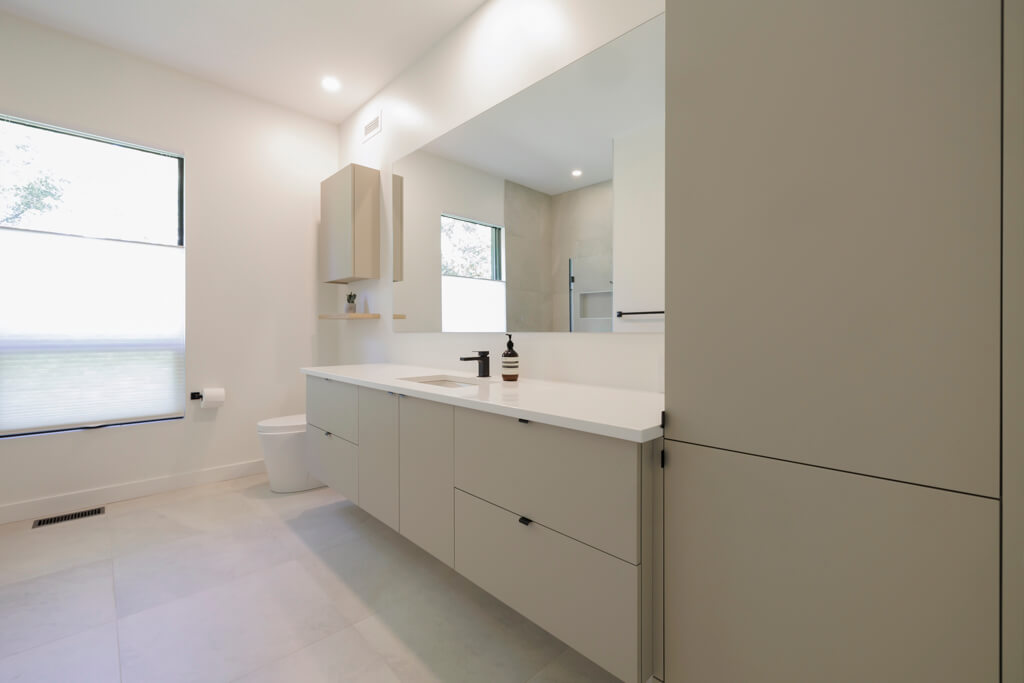 Minimalist interior design
Uncluttered spaces with geometrical shapes always inspire a minimalist feel. Eliminate motifs at all costs! Natural textures take center stage and so do plants.
If you are leaning towards a minimalist door to lighten your decor, opt for DÖRR Industries. Our frameless doors are both esthetically pleasing and easy to install. Book an appointment with one of our designers for more inspiration!