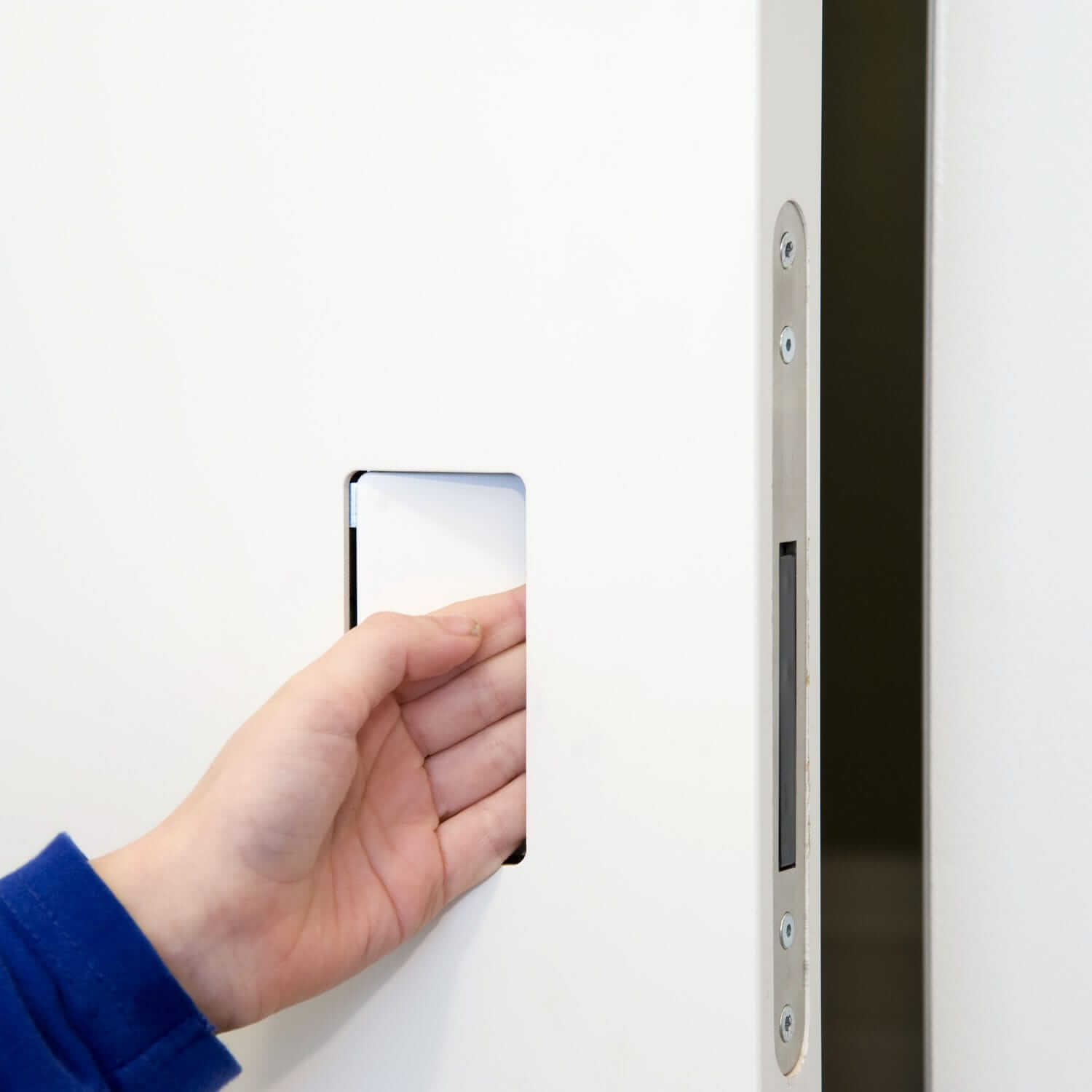 Often used in smaller spaces like in wardrobes, pocket doors are an advantageous option and can be used in many different ways. At Dörr industries, the new Pocket door series offers custom made sliding doors that adapt to your every need.
Find out more about the advantages that these types of doors bring, along with the possibilities that are offered to you when choosing our models!
Pocket doors: an advantageous solution
Saving space
Pocket doors are greatly appreciated for all of the space they allow you to save. In fact, these doors do not take up more space when they are open than they do when they are closed. However, you must ensure that you have enough space in the adjoining wall, which must be big enough to welcome the door frame. For example, for a 32'' opening, the required space will be at least 64''.
This makes it an ideal option for smaller rooms. In fact, given that the door slides into the wall, there is no need to plan for door clearance. They can also be used in larger rooms where you also want to maximise space! 
To divide a room
If you have an open space and would like to open and close it at your leisure, a pocket door is the perfect option. Closed, it will provide you with a comfortable and more intimate space. Open, it allows the room to look bigger and offers an open-concept area where you will feel comfortable with family and friends. The pocket door allows you to create both a functional and elegant space. It is also often used to divide a bathroom and laundry area. 
For your wardrobes and pantry
As mentioned above, sliding doors are ideal where space is limited. With our custom-made models, you will have the perfect option for your wardrobes, but also for your walk-in pantry. These doors allow you to maximise your storage spaces and to enter and exit without any obstacles. Our sliding door models are also very quiet.
An esthetic choice for the whole house
The modern pocket door is perfect for small spaces, but also for any other space in your home. It is a perfect intimate option for your bathroom, your bedroom or your home office.
It is also an esthetic choice that can easily be integrated into a wide variety of different designs, no matter if you prefer contemporary, rustic or minimalist! Do you have Integra doors, or are you planning on purchasing some? Our pocket doors can be matched with the door models from this series without a visible frame, for a harmonious interior design.
Creation and installation
Custom made doors
Our custom-made doors are created according to your specific needs, dimensions and desired style. Our doors are delivered without a finish, ready to be painted. For a more classic style, there are several wood veneer finishes also available to you that will be the perfect accents to your space.
Moreover, our accessories for interior doorsallow you to customize the model to match your taste perfectly. You can choose a door handle and style that will make the door perfect for your home. Opt for the No-Ha invisible handle, if you want the perfect addition to your minimalist design!
Easy Installation
Who said that installing a pocket door had to be complicated? With our Integra Pocket models, the installation process is divided into four easy steps:
Preparing the space*;
System pre-assembly;
Integra Pocket system installation;
Gypse and plaster finishing touches.
*You will want to pay special attention to planning for the rough door opening. To calculate the width, all you have to do is double the door's width and add 4 ½ ''. For the height, you will have to add 4'' to the door's actual height.
Thanks to our easy to install products, you can save time and also end up with the perfect result easily. Take a look at our installation guide, which explains how to proceed step by step. No matter if you are a homeowner or a contractor, you will definitely appreciate our easy installation process.
The different types of sliding doors offered
On a 2×4 or 2×6 aluminum frame
The aluminum frame is delivered pre-assembled and ready to install, and is both simple and elegant. This frame can be adapted to 2×4 or 2×6 partitions.
Our custom made doors without visible frameproduce a "flush wall" effect that is very trendy.
On a 2×4 or 2×6 wood frame
Our sliding door frame is delivered pre-assembled and provides you with a solid structure so that your door will slide smoothly and easily. Depending on the wall partition, you can opt for a 2×4 or 2×6 wood frame.
Single 24'' to 36'' doors or double 48'' to 72'' doors
No matter if you are installing a discreet door for your pantry or a larger door to divide a room, we adapt to your needs. This is why we offer several different sizes for our sliding doors that vary between 24" and 72" wide, and up to 118" high. Would you rather opt for a double door? Don't forget to order two frames.
Our options adapt to your budget while also offering a wide array of possibilities. Expand your existing space and create a stunning style with single doors or double doors custom made for your needs and specifications.
How to purchase a POCKET door?
Would you like to purchase a custom made sliding door but don't know where to start?
If you have any questions or would like to order a POCKET door, all you have to do is contact one of our representatives.